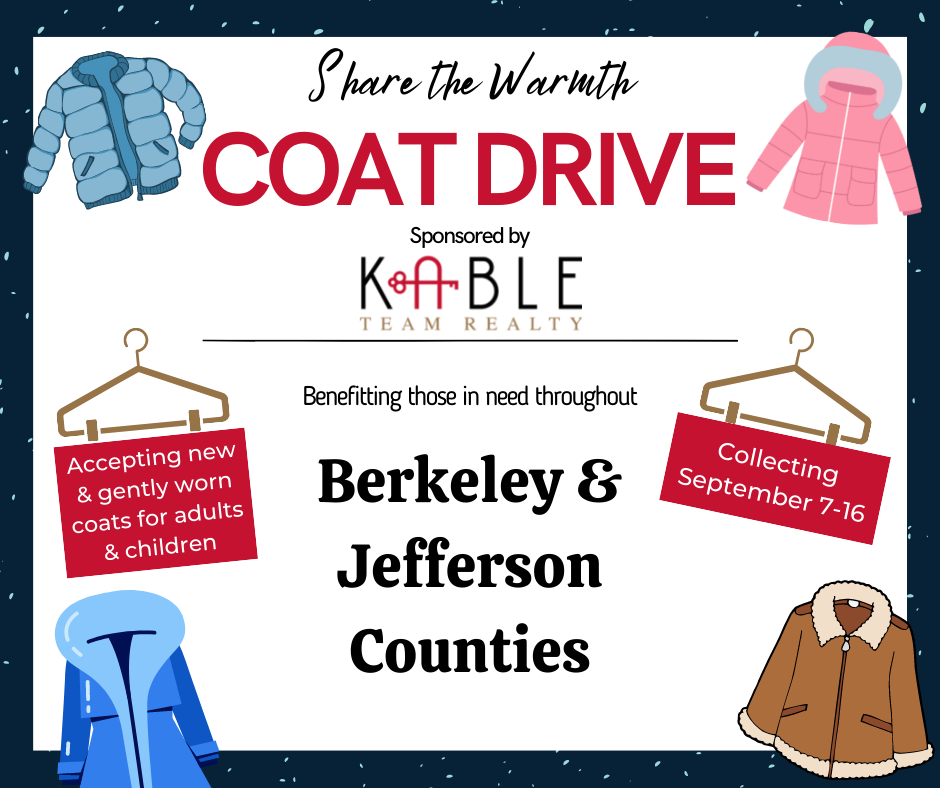 Last year over 250 coats were donated to our neighbors who needed them most throughout Berkeley & Jefferson Counties. We're excited to see how our generous community shows up again for our 2nd Annual Coat Drive! 
We will be collecting NEW and GENTLY WORN coats from September 7 - 16.
Gently worn coats should be CLEAN and WEARABLE. NO holes and NO stains.

DROP OFF LOCATIONS

(Additional locations may be added at a later date.)
CHARLES TOWN: Kable Team Realty
873 E Washington St, Ste 200
Charles Town, WV 25414

CHARLES TOWN: Locust Hill Golf Course
278 St Andrews Dr
Charles Town, WV 25414

INWOOD: Jefferson Security Bank
277 Mineral Dr
Inwood, WV 25428

MARTINSBURG: Jefferson Security Bank
1861 Edwin Miller Blvd
Martinsburg, WV 25404

SHEPHERDSTOWN: Jefferson Security Bank
105 E Washington St
Shepherdstown, WV 25443

If you have any questions, reach out anytime: 304-885-1704 or info@thekableteam.com.